FEATURE ARTICLE
Delta Force Paintball Manchester – Top Game Zones and Equipment!
Searching the web for the best 'paintball Manchester' providers? Then you'd need not search any longer. Delta Force is the UK's leading paintball operator, providing customers with the ultimate experience in paintball technology! Our Manchester Paintball Centre has a fantastic variety of top-of-the-range paintball game zones with movie-quality props, and first-class facilities at basecamp. What more could you want?
Our high-tech game zones at Delta Force Paintball Manchester include 'Command Post' which includes military bunkers for players to take shelter in and wooden bridges to dart across; 'A Bridge Too Far' where allied forces have sent numerous paratroopers into the Netherlands and 'Chemical Alley', where your mission is to seize control of a heavily guarded fuel depot. If you're worried you don't have the best aim, don't panic. Our paintball centres have target ranges for players to practice their shooting skills before they're let loose on the battlefield.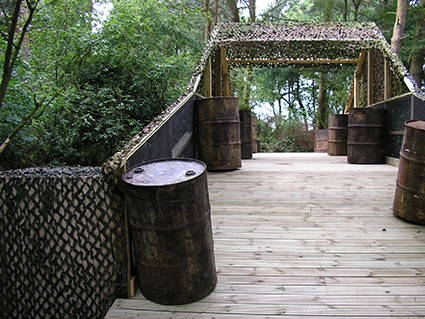 Our basecamps also have top-notch facilities, including proper flushing toilets on mains water, comfortable picnic areas (covered and open) with lots of seating available and secure lockers for customers to store their valuables (for a small fee). We can also provide guests with hot pizza lunches (pepperoni or margherita options available), freshly prepared by an offsite catering company. These can be ordered in advance, or on the morning of your event (before 11am). And, if it's your birthday, we can arrange for birthday cake (BYO) to be served too! For more information read about our special birthday paintball events.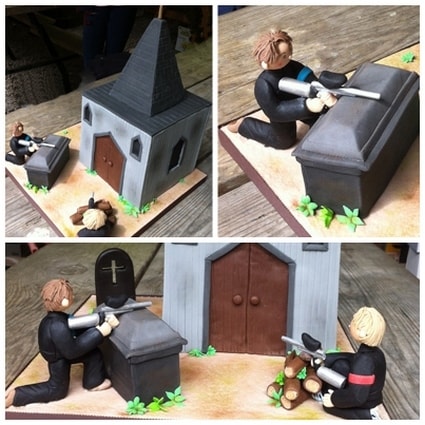 We also have the best paintball guns on the market, including the awesome M16 Bavo One semi-automatic upgrade paintball gun.These guns feature an 11" barrel with built in sight, a collapsible stock and removable magazine; making you feel just like Rambo! But you'll have to be quick – there's only a limited number available for hire on the day (at a £10 surcharge). But, if you're not quite fast enough to bag yourself one of these beauties, don't worry. You can still use one of our other high-spec paintball guns, including the Inferno Field Mk2 or the Tippmann '98 or FT-12 models.
To request more info about Delta Force Paintball Manchester centre, or to book your paintball event with us, call 0844 477 5115*