FEATURE ARTICLE
Delta Force Paintball Dorset: Get Ready for the London Apocalypse!
If you're looking online for an activity day in Dorset, then take a trip to our Southampton Paintball Centre! Our centre offers guests a fantastic range of paintball game zones and comfortable facilities at basecamp, providing the ultimate paintball experience.
Delta Force Paintball Dorset is conveniently positioned in nearby Southampton; ideal for paintball lovers living in Dorset. The venue is surrounded by beautiful mix woodland, making it a truly picturesque setting. The front entrance looks impressive, with an original Alvis Stalwart heavy-duty amphibious military stationed there! Our movie-set quality props always make a big impression, and our guests love using them in their group photos!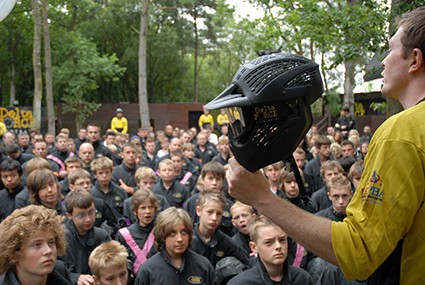 Game zones at Delta Force Paintball Dorset include the ever popular Castle Wallenberg which features a large two-storey fortress with sniper tower, and London Apocalypse, which comes complete with several original double-decker London Buses. Other game zones include A Bridge Too Far, Command Post, Chemical Alley, The Haunted Graveyard and Viet Cong Village. Guests at the Southampton Paintball Centre can also take advantage of the fantastic range of paintball pyrotechnics available: paint grenades, smoke grenades and MK5 Thunderflashes.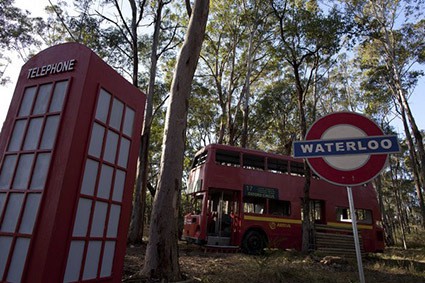 But, it's not just the opposition you'll have to be careful of while you're at war. The Delta Force Terminator is another threat that hides in the woods, looking for a worthy foe! The Terminator can appear in any game at any time, completely unannounced. If he decides he wants to challenge you to a gun fight, he'll raise his deadly BT4 combat markers and point them towards you. If you decide to accept, all that's required is to open fire at him! And, if he thinks you're a worthy challenger, he'll give up one of his paintball guns for you to use for the remainder of the game. It's the only way you can get your hands on one of his impressive semi-automatic paintball guns… So, tell us… Are you feeling brave enough??
If you would like to find out more about Delta Force Paintball Dorset, or to book a day of paintball with us, call the bookings line on 0844 477 5115*