FEATURE ARTICLE
Delta Force Paintball Brisbane – brand new centre now open!
A brand new Delta Force paintball centre has just opened in Brisbane, Queensland and it's already received serious media coverage given the full sized aircraft that was transported through Brisbane city centre to take pride of place in the middle of one of 6 movie set quality game zones available at the first Delta Force paintball centre in Queensland, Australia.
The Petrie paintball centre opened last weekend and had hoards of keen paintballers through the doors in their haste to be part of Delta Force Paintball history. You can see the first 17m replica full scale Black Hawk helicopter in Australian paintball history as it was captured on Channel Nine news:
Brisbane paintball games
The latest addition to the Delta Force Paintball portfolio caters to players aged 15 years and up, meaning it is ideal for kids looking for new adventures on weekends and during holiday season. There's no reason for adults to miss out either, and during our first opening weekend the Red Bull crew joined us to celebrate and rewarded keen paintballers celebrating stag parties and fun days out with cans of Red Bull to keep their energy levels up and legs pumping as they maneuvered over tombstones in Resident Evil, secured village huts in the Tropic Thunder field and conquered the giant 25 foot high pyramid in Tomb Raider. However, the most popular game zone so far appears to be the Black Hawk Down scenario, which comes as no surprise given the beast of a helicopter that features in this epic scenario.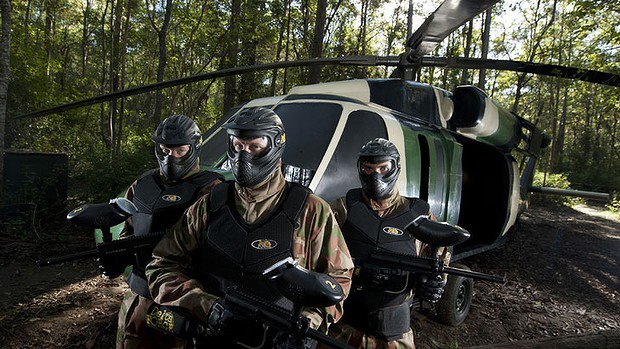 Fans took to the Delta Force Petrie Facebook page to comment on what an awesome time they had. Check out their comments and pictures here. The paintball centre in Petrie is Delta Force Paintball's 36th first class paintball centre worldwide. If you'd like to experience paintballing at Delta Force at locations in the UK, Ireland, Canada, Australia or New Zealand, call the booking office on 0844 477 5115*