FEATURE ARTICLE
Connor Ball of The Vamp tests his paintballing skills in Birmingham!
Connor Ball, vocals and bass player of Brit pop rock band The Vamp, and his family visited the Delta Force Birmingham Paintball Centre last weekend to enjoy the best paintballing experience that the Midlands has to offer.
These guys are clearly on the rise, having won various awards and already toured with the likes of McFly (remember them?) and Selena Gomez, not to mention their upcoming support for Taylor Swift at the The O2 Arena this February. The follow up track to the hugely successful "Can We Dance" is set to be released in the next few days, aptly titled "Wild Heart", so what better way to celebrate than with an epic day of paintballing at Delta Force!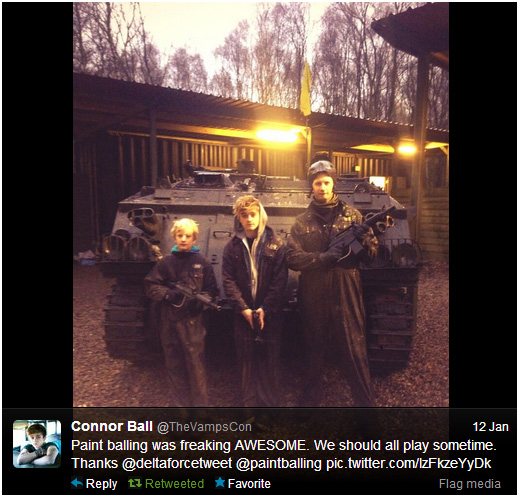 It just so happens that the Birmingham centre exhibits six classic Delta Force game zones, full of character and unique traits that make them so popular with the players. From the imposing grounds and fortress that is Castle Wallenberg to the mysterious aura that surrounds the temple in Tomb Raider, there really is something different for every player. Connor obviously got stuck in without a second thought, declaring his day out as "AWESOME" (his capitals) and that "We should all play sometime" – we consider that some pretty sound advice from the young man!
For your own Birmingham paintball centre experience, contact our friendly booking team today on 0844 477 5115*