FEATURE ARTICLE
Christina Aguilera is a paintball diva!
Hold the press; the star of The Voice has revealed her passion for paintball!
Singer and songwriter Christina Aguilera, speaking to Jay Leno on the "Tonight Show", revealed that to combat stress she would 'shoot off some paintball guns in the backyard', a fulfilling pastime she encourages her friends to do too.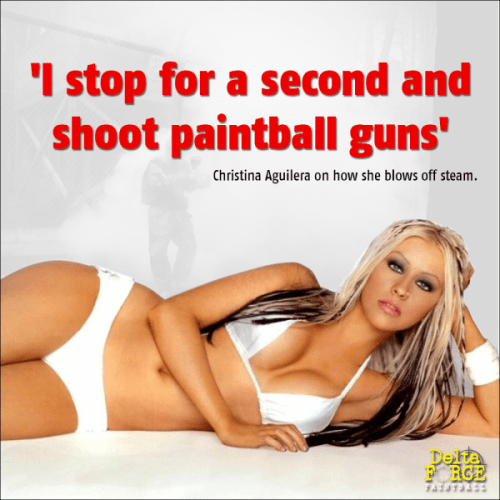 Firing off round after round in your spare time is a great source of relaxation, but let's be honest – nothing beats the real thing. What could be better than an exhilarating matchup between you and the enemy, fighting over every square inch of the battlefield with your comrades by your side? Not only is it stress-relieving, securing the mission objective under the noses of your opponent is one of the most satisfying feelings you can experience!
Once she has tired of shooting targets in the backyard, we would love to test Christina's skills at one of Delta Force's 30 UK and Ireland paintball centres. If she can shoot as well as she can sing, her enemies will be in for a tough time…
Book your day out now by visiting the paintball booking page or calling our events team 24 hours a day, 7 days a week on 0844 477 5115*.