FEATURE ARTICLE
New paintball goggles at Delta Force
After more than 12 months in the R&D lab we are proud to announce the delivery of 5,000 brand new Delta Force full head protection goggles. Delta Force worked closely with paintball equipment specialists to design and develop these top of the range full head protection paintball goggles.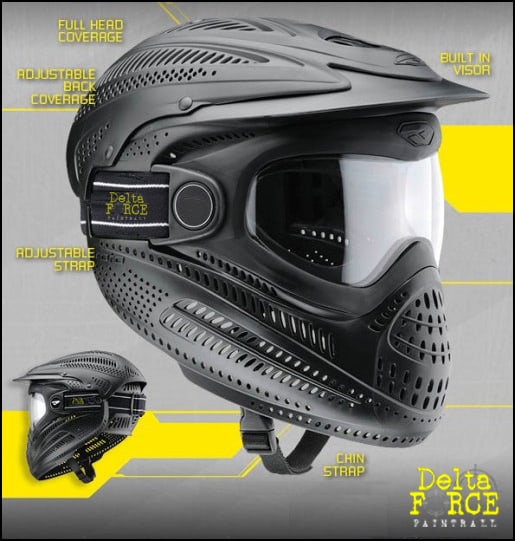 The manufacturer is renowned as the industry leader when it comes to developing paintball equipment, and these brand new Delta Force goggles have yet again set a new standard within the paintball industry for rental goggles.
Delta Force is the first company to use the newly designed, state of the art goggles and they will be distributed across our paintball centres within the next two weeks.
The sleek new design of the goggles incorporates the latest paintball lens technology, and is specifically designed to improve the overall comfort for our customers.
With an aerodynamic lid that encourages hot air to leave the head (rather than be trapped within the goggle), the goggles perform even better in hot and steamy conditions where fogging was once an issue. The lightweight design also aids manoeuvrability and ventilation when in the heat of battle.
A new aspect of the goggles is the durable built-in visor that adds extra protection to the fog resistant lenses. Similarly, the goggles have been specifically designed to allow people with glasses to be able to wear them during play, and the new design also makes getting the goggles on and off a lot easier and safer when wearing glasses.
Don't take our word on how good these goggles are, come and try them for yourself! To experience the ultimate in paintball goggles arrange a visit to a Delta Force centre near you by calling one of our friendly event coordinators  on 0844 477 5050. Now you can enjoy a day of paintball action in more comfort and safety than ever before.