FEATURE ARTICLE
Upgrade your paintball experience and win the game!
There are paintball games, and then there are Delta Force paintball games! Here at Delta Force Paintball we are always looking to provide the most awe-inspiring and adventurous days out for all our customers whether you are a regular or a rookie – and what a better way to give your team a head start in winning than by upgrading your gun for the day to an M16 Tactical Assault Rifle!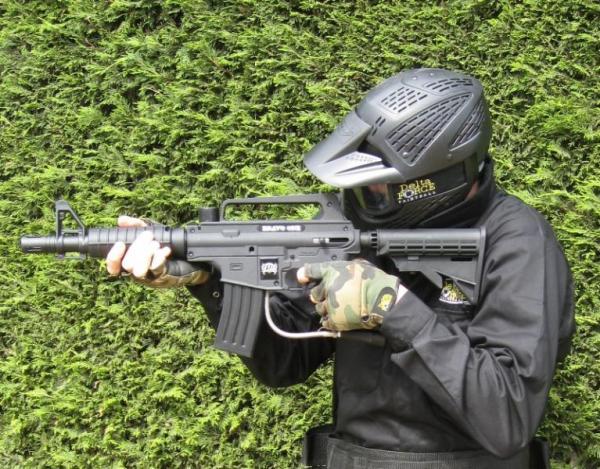 Manufactured by the ever reliable Tippmann Ltd, the Bravo One is a mock replica of the original M16 rifle you may have already experienced while playing any Call of Duty computer game. Made from black dye cast metal, other features of the Bravo One include a light weight trigger for a fast rate of fire, an 11 inch barrel for improved accuracy, an adjustable stock for comfort and a sight rail for any wannabe 'sniper'. These semi-automatic calibre guns give extraordinary firepower as some recent players found out;
"the M16 was truly amazing, not only was it lightweight but it gave me more confidence to move forward and get involved in the game. I was a first time player when I started in the morning and by the end of the day I was dominating the field, [it was] well worth the £10 to upgrade" M. Bradley, London
Now in stock at all our UK Delta Force centres anyone can become an elite member of our 'upgrade club' by renting the infamous Tippmann Bravo One, but be warned you'll need to get to the centres early as these ever popular guns are on offer to paintball fans of all ages and are available on a first come, first serve basis. But remember, they aren't the only things to keep you pumped throughout your adrenalin fuelled day, with an M16 in your hands you can expect to play on any number of our movie set quality game zones, from Tropic Thunder to The Battle of Stalingrad.
With over 22 years experience at the forefront of the paintball industry, Delta Force provides the ultimate experience for all customers. The M16 is just another addition to our arsenal, why not come share it with us?