FEATURE ARTICLE
Top 5 paintball movie moments
We don't usually like taking our work home, but every once in a while paintball somehow manages to creep into our filmed entertainment. We all enjoy a good movie at Delta Force, so here's a list of some of our favourite paintball movie moments. Enjoy!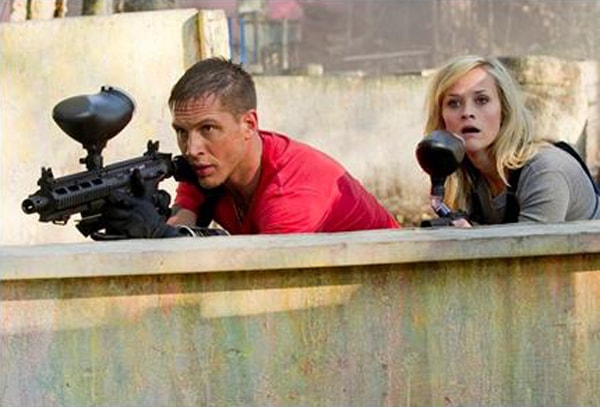 1 – This Means War (2012)
This recent action rom-com sees Tom Hardy's secret agent take Reese Witherspoon on a date at a paintballing centre. Top man! Except his black OPS background causes him to overlook basic safety regulations (where's your goggle mask, Tom?) and take the game a little too seriously – watch him hop across props and mercilessly take out a bunker full of underage players with a paint grenade.
2 – Failure to Launch (2006)
What is it with rom-coms and paintball? In this entry we have Matthew McConaughey and his entourage of alpha males get taken down by Sarah Jessica Parker in a game of sup'air. As unlikely as that sounds, there are a few valuable tips you can pick up from this scene. Like, don't ever stop in the middle of the battlefield to check out the cute girl outside the game zone. And most importantly, don't ever let a Sex & the City character beat you at paintball.
3 – School for Scoundrels (2006)
Here's a lesson that was touched upon in This Means War: a paintball to the groin is painful. Somebody had better tell Billy Bob Thornton's self help motivator, who proceeds to shoot one of his pupils at point blank range, with hilarious consequences. At this point, we are legally obliged to state that Delta Force does not condone the use of semi-automated replicas to inflict injury to the male genital area.
4 – Paintball (2009)
Admittedly quite a bad film, but the trailer is a hilarious watch nonetheless. Playing out like a twisted version of the adults' page on our website ("THEY WANTED TO ESCAPE THEIR ROUTINE"), the promo sees a group of mismatched individuals engage in a good old bout of paintball, before the game takes a nasty turn and the game zone becomes a real battlefield. Yes, it's as awful as it sounds.
5 – 10 Things I Hate About You (1999)
The sweetest entry on our list, this high school comedy sees Heath Ledger and Julia Stiles go on a date at a paintball centre (again!) and even share their first kiss after splattering each other in different shades of red, blue and yellow. Awwww... Plus, the scene is made all the more adorable for its distinctively retro take on the sport – what, no Infernos or M16 replicas??