FEATURE ARTICLE
Pink tutu for stags and hens!
As the most random spring season ever comes to a close (hottest March followed by the wettest April in UK records), it looks like temperatures are set to rise in time for the plethora of June weddings that countless fiancées have no doubt been eagerly looking forward to. But for Delta Force, wedding season has an entirely different meaning, and that is having to prepare for loads and loads of stag and hen parties!
Bachelors and bachelorettes are among the easiest customers to satisfy – imagine a group of big kids without the larger than life expectations and you'll get a pretty good idea of what we deal with. More importantly, it's fun to see how these two different groups differ from one another despite the nature of the event they share in common.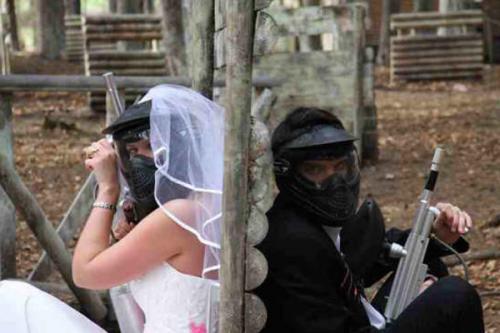 Take the hens, for example. Like their ornithological namesake, they usually get their feathers ruffled at the prospect of getting paint in their long hair, while the more sensitive ones run around like headless chickens at the sound of gunfire. Over the years some have even demonstrated just how unaware they are of the concepts of stealth and tactics by turning up in high heels at our centres.
But maybe that is an unfair (although amusing) generalisation. In fact, we've had a few hens who have demonstrated considerable marksman – or markswoman – skills in the paintball arena, such as the time when a bride to be proceeded to gun down her opponents whilst wearing a bridal gown, or the episode in which a group of 40 something hens took out a team of 20 year old men.
Which brings us to the stags, an entirely different beast altogether. These tend to be loud, boisterous specimens who display all the bravado you'd expect from an everyday Joe who gets to play alpha male for one last time before getting hitched and subjected to a lifetime of emasculation. As opposed to hen parties, stag dos seem to be all about inflicting pain on the bachelor – far too many times have we seen the stag being fitted with antlers and a pink tutu before being set off into the woods, desperately dodging the paintball shots of his best mates. It's both a harrowing and incredibly entertaining sight that never gets old.
So as you can tell, stag and hen dos are arguably the best, definitely the funniest events we run here at Delta Force. And if you are getting married soon, why not give us a call and book in a party we guarantee you will never forget? We've got the pink tutu here waiting for you...