Paintballing in Suffolk
Epic paintball battles with Delta Force Paintball Suffolk
If you're looking to play paintball in Suffolk, we recommend the Thetford Forest Paintball Centre – conveniently situated off the A11 just outside of Thetford, this popular paintball centre features exciting game scenarios set in dense woodland. Catering to players aged 12+ years, look no further for an exciting day out for a birthday celebration, stag or hen party or corporate team building event.
There are several Delta Force Paintball centres conveniently situated in and around Suffolk near major motorways and A-roads that are ideal for a paintball adventure. Delta Force Paintball Essex in Billericay, Delta Force East London in Upminster as well as two paintballing centres in Hertfordshire mean there are plenty of options to choose from when booking a Suffolk paintball day out with friends, stag or hen party or birthday celebration.
What to expect at Suffolk and other Delta Force Paintball centres
With over 25 years' experience in the paintball industry, we have become the UK's most trusted paintball provider, with 32 centres nationwide. During this time, we have understood what paintball enthusiasts what to see out on the battlefield, how we can adapt, what changes to make and so forth. We ensure everything runs smoothly on the day and that all requirements are met as a primary concern. Yet above all, we want visitors to come away with a huge smile on their face so we make sure we have the best of the best when it comes to paintball!
At national Delta Force Paintball centres close to Suffolk we invest heavily into our state-of-the-art paintball equipment; a combat suit with high padded collar, plus a mist-proof helmet and goggle system that fully encloses the head are all standard-issue and ensures that players can fully concentrate on the game. Body armour is also available for all players and we also offer the very effective riot shield for hire  – there's no way a paintball will break through genuine perspex!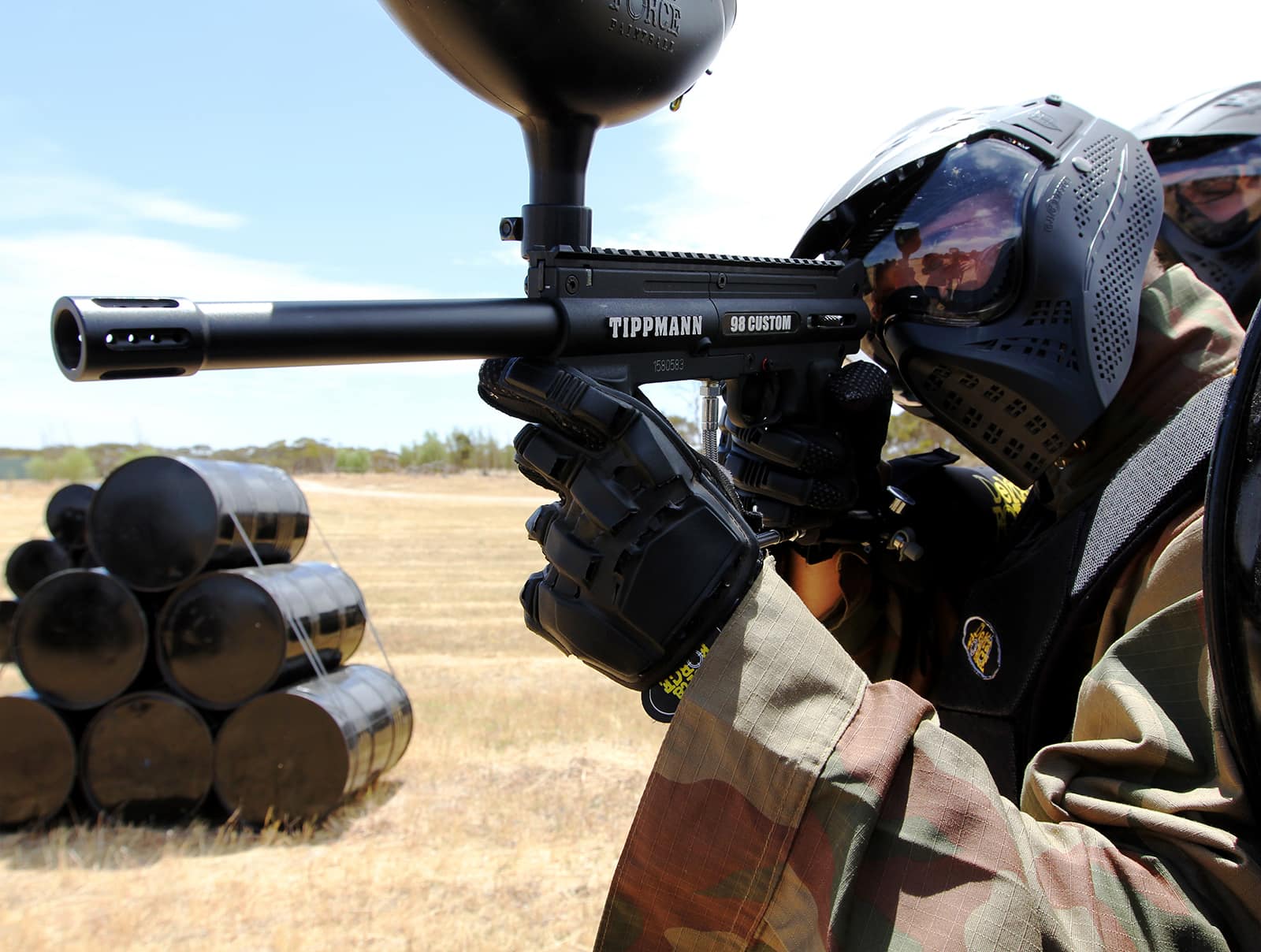 Unique game zones at Delta Force Paintball
Each Delta Force Paintball centre carries its own personality, thanks to the unique game zones at our various paintball centres in Suffolk and the rest of the UK thanks to the passionate base camp staff and marshals. Although we aim to keep a high level of quality across all our facilities, every centre will have something different to experience. For example, the North West London Paintball centre is one of the few paintball centres in the UK to showcase the Black Hawk Down paintball scenario, featuring a decommissioned helicopter as the centrepiece! This is a typical 'extract the general' mission format, with one team having to save an MVP from being taken by the opposing forces – certain to lead to adrenaline-packed conflict.
The Delta Force Essex paintball centre is regarded to have the best 'A Bridge Too Far' game zone in the country. Although considered a regular game type in most paintball settings, Delta Force Paintball has turned it into a cult classic thanks to engaging game play and movie-quality props. The mission here is a standard 'capture the flag' scenario but with a twist; you have to take the flag into the enemy base rather than the safety of your own, via a large and particularly exposed bridge! There is little that well thought out tactics can do for you here, just try not to get caught solo in no-man's land…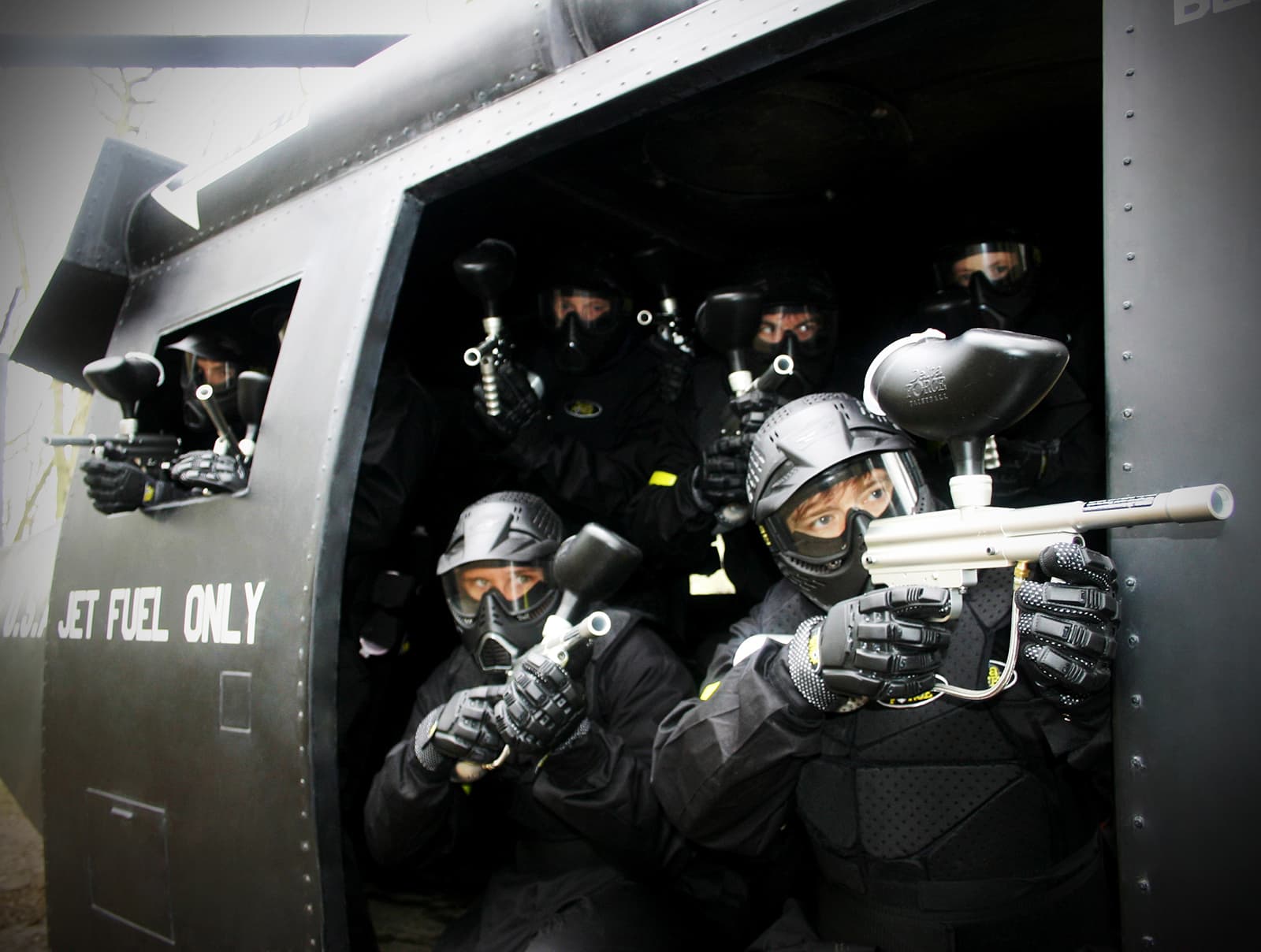 Be sure to visit several of our paintball centres near Suffolk if possible, as you will take epic paintball memories away each time!
To book your ultimate paintball day out near Suffolk, contact us on 0203 869 9301today.