FEATURE ARTICLE
Paintball safety: What to wear for a day of paintball
Every week at Delta Force Paintball, thousands of customers turn up to play paintball in all manner of clothing and costumes, from sensible to silly! Our staff never passes judgment on any customer's sense of fashion, that's not our place! We just want our customers to be as comfortable as possible to give them the perfect day of paintball.
Our customers frequently ask questions that our staff has been happily answering for years, such as "Do paintballs hurt?" or "Is paintball suitable for children?" (most of these questions can be answered in our FAQs) but one question with no definite answer always pops up; "What should I wear for paintball?"
We get many people turn up to play paintball in the height of summer wearing thick jumpers and baggy jeans in order to protect themselves or wearing nothing but shorts and a t-shirt on a frosty morning in January to try and keep cool! Neither one of these customers made the wrong clothing choice, they wore what they were most comfortable in. There are many factors to consider when deciding what to wear for a day of paintball:
Bear in mind that Delta Force Paintball takes every measure to protect our customers. We are the only paintball provider in the UK to provide to all our customers (at no extra cost) full head protection goggles, a camouflage combat suit complete with padded collar, protective body armour, paintball hopper and a waist-mounted battlepack.
This equipment alone provides almost complete protection to your whole body but if you feel the need to protect some of the more sensitive areas of your body we also offer protective gloves at affordable prices. We regularly host paintball parties for children as young as ten years old – if our equipment is good enough for them, it should be fine for you and your group!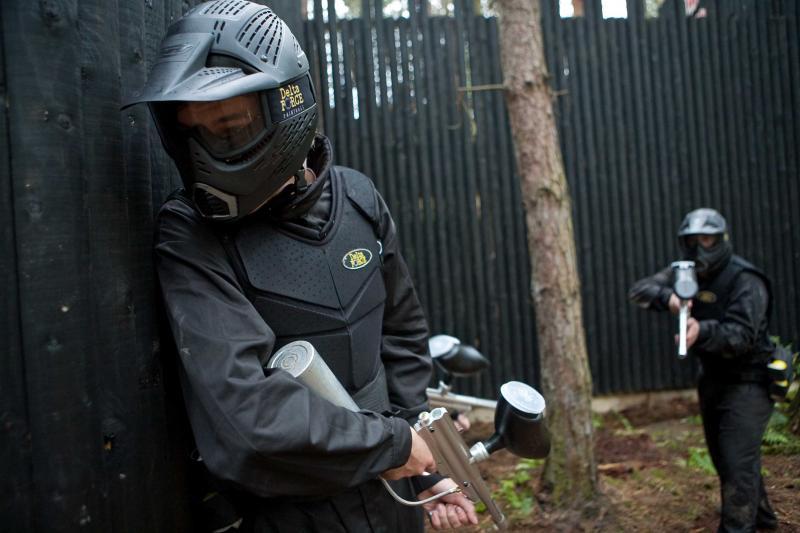 Flexibility:
Paintball is a very active sport. Players spend a whole day darting through woodlands, diving behind cover and dodging paintballs – all while being fully decked out in full Delta Force Paintball equipment! When getting ready for a day of paintball, it's important to wear clothes that won't restrict your movement yet provide you with the protection and warmth that you require.
Charging around a Delta Force Paintball game zone under fire in full paintballing equipment is guaranteed to get anyone's blood pumping! We usually advise our customers to wear light clothing but it's entirely up to you what you choose to wear on the day.
We hope this article can be of use but if you have any other questions about how to prepare for a day of paintball, take a look at our FAQs or call our booking office on 0844 477 5115*. Our friendly booking staff will be more than happy to answer any questions you might have.