FEATURE ARTICLE
Paintball Safety: What to Wear For a Day of Paintball
Every week at Delta Force Paintball, thousands of customers turn up to play paintball in all manner of clothing and costumes, both sensible and silly. However, for our novice players attending the Delta Force Paintball Centre, a common question asked is what to wear during the paintball experience. And while there is no particular dress code there are some pointers that you may want to consider before your day of combat begins. At all 35 UK paintball centres, we provide customers with the latest paintball gear to help you not only look the part but also to keep you covered from top-to-toe.
When playing any sport, the quality of your equipment and protective equipment can be crucial in determining your success. Not only giving you confidences but also keeping you agile and able. During a full day of paintball at Delta Force Paintball, all players play equipped with the latest paintball gear. Taking every measure to protect our customers. We are the only paintball provider in the UK to provide to all our customers (at no extra cost) with; 
Full Head Protection Goggles
A Camouflage Combat Suit - with Padded Collar
Protective Body Armour
Paintball Hopper
Waist-Mounted Battle Pack
As a five-star member of the UKPBA – the governing body of the sport in the UK – we only provide the highest quality equipment ensuring player safety and equipment reliability to ensure an enjoyable day out for all our players.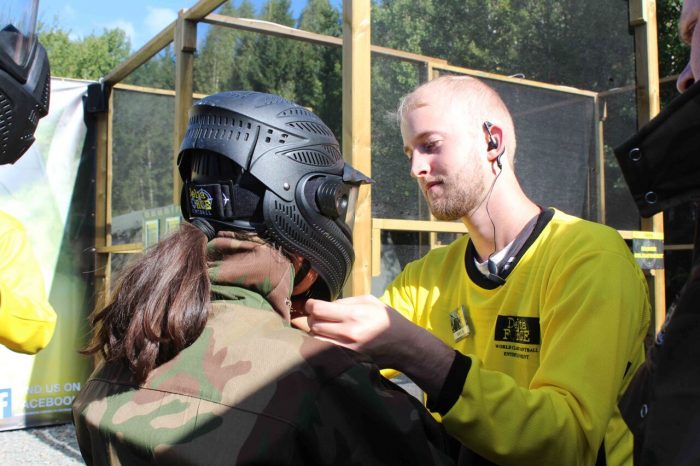 Recommended Attire for You to Wear on Combat Day
1. Light Weight Clothing
While people may think that it's best to wear additional layers under the combat overalls issued to you to deflect from paintball shots, this isn't always the case. Paintball is a very active game, and with the adrenaline pumping, it doesn't take long for temperatures to rise. It's best to keep fresh and wear clothing that won't restrict movement such as gym clothing. Players may also want to bring a change of clothes for the conclusion of the game, especially those who may have tested out one too many command rolls.
2. Closed & Comfortable Footwear
Footwear is also an essential item seeing as all national Delta Force Paintball centres are based outdoors in woodland environments. Ditch the trainers, high heels and flip-flops and be sure to wear boots with ankle support and deep tread/rubber soles – out in the game zones it can be muddy, wet and slippery. Some players may choose to wear Wellington boots if it is muddy during the winter months but it is up to each to decide if they want to choose a waterproof option rather than the safety of ankle support.
3. Clothing That You Don't Mind Getting Ruined
All though not everyone may take on the combat simulation as confidently and fearlessly as Rambo, paintball is a very active sport and involves a lot of running, ducking. It involves daring tactics that may end up with you ripping or messing on your clothes. Especially if the weather has been misty and wet. Although we provide you with a camouflage combat suit you can never be too safe and we wouldn't want your day ruined just because your clothes were. It's better to be safe and sorry and wear clothes that won't break your heart if destroyed by paint or dirt.
4. No Jewelry Or Valuable
As mentioned before Paintball is a very action-packed sport that is filled with adrenaline and adventure. It is advised that you wear no jewellery or valuables on the combat ground as there is a high risk of you losing your items or even being injured by them. You don't want your game to be hindered by your concern for your valuables.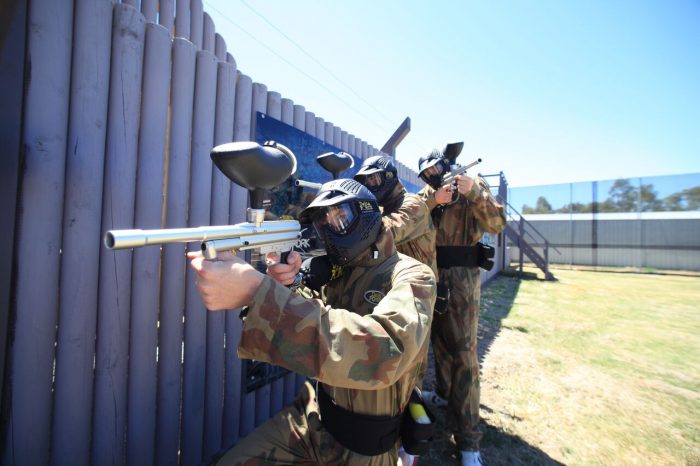 Our top-of-the-range paintball protective equipment comes with a padded collar that protects you from foul neck shots. We also provide players with our custom-made body armour that shields the torso. Comprised of multiple plates that allow flexible movement as you duck and dive on our themed game zones.
Our paintball goggles cover the entire head, providing 360-degree protection against any stray headshots. Our US-Spec paintball guns are top-of-the-range and allow for the ultimate firepower. These semi-automatic weapons are lightweight and easy to manoeuvre. We also provide the option to upgrade to a replica M16 paintball gun allowing players to increase their rate of fire with deadly accuracy. For those wanting the ultimate Rambo experience, this is your go to weapon of choice to use in our themed paintball game zones.
To make sure that no one is caught short in a vital moment, battle packs can be used to hold additional ammunition. They allow for four additional refills to be carried with you so you can top up when you need it most.
This equipment alone provides almost complete protection to your whole body but if you feel the need to protect some of the more sensitive areas of your body we also offer protective gloves at affordable prices. At Delta Force, we always have your back and would never send out team out into the line of fire unarmed and unprotected. No matter your age or occasion we have you covered. 
If you have further questions about what to wear for your paintballing event or even book in your paintball day, call an event coordinator 24/7 on 0844 477 5115*.