Paintball Hen Party
A mud bath at a spa weekend may be the ideal getaway for some, but why not get muddy whilst enjoying an awesome day of outdoor paintball with all your friends? It's just as invigorating and a heck of a lot more fun! Treat the Hen to a visit to a Delta Force Paintball Centre; for over 20 years we have been helping ladies find that inner kick-ass heroine.
With over 30 paintball centres nationwide, finding us couldn't be easier. So if you are looking to share some great laughs with your friends and a chance to really let your hair down, what are you waiting for?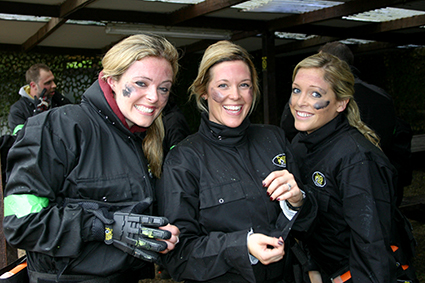 Gearing up with our awesome equipment
Remove those cucumber slices from your eyes and instead slip on one of our state-of-the-art US-Spec Goggle Systems, just one piece of our top quality standard-issue equipment. We also provide full body coveralls, complete with padded collar that protects the vulnerable neck area; for some, however, attack is the best form of defence and our Inferno MKII semi-automatics certainly provide the necessary firepower!
Safety is often our customers' main concern (both guys and girls) and we take pride in our five-star rating from the UKPBA – the national governing body for the sport. For those who want to take extra care, additional body armour and protective gloves are both available to hire.
Organising hen parties with Delta Force Paintball
Paintball is a great activity to kick off what will hopefully be a hen weekend to remember. If a full-day of thrilling paintball conflicts with a busy party schedule, then we also offer half-day packages, giving you plenty of time to get ready before heading out for a night on the town.
However long you decide to stay with us, we offer a variety of packages and are happy to work with whatever budget you have set. We offer competitive paintball prices – from ammunition and equipment to lunch – to ensure that everything runs as smoothly as possible on the day.
Of course, if you have any special plans for the hen of your own, let us know and we will do our best to accommodate them. Any items of clothing that are not particularly flattering and make the hen stand out are more than welcome!
What's more, we also cater for stag groups, giving both parties the opportunity to lock horns on the battlefield, should you feel the urge to prove who really carries the stronger genes, the boys or the girls!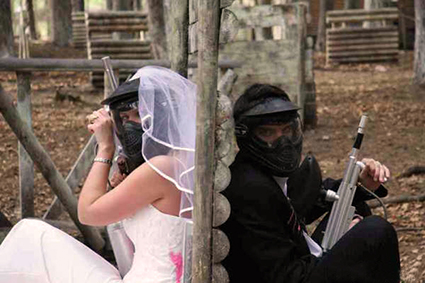 Call our booking team on 0844 4775115 to organise your hen party paintballing experience!