FEATURE ARTICLE
Downing Street Fighter – David Cameron VS Nigel Farage
Welcome to the Delta Force South East London Paintball Centre for the first of our epic Downing Street Fighter bouts! With the UK General Election fast approaching, our first battle sees David 'Cam-Li' Cameron taking on the unpredictable underdog Nigel 'UKIP Vega' Farage.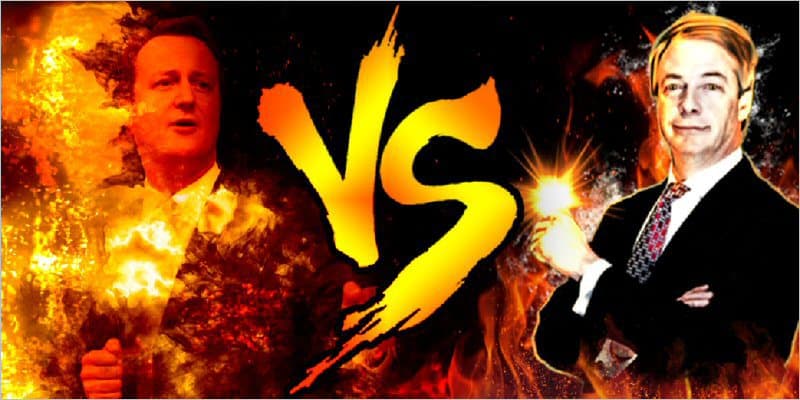 David Cameron VS Nigel Farage
Both players have just arrived at basecamp and are immediately given their protective headgear and body armour. After a short safety briefing from the Delta Force Paintball marshals we're ready to get the action underway!
Farage claims to be a paintballing pro, but his power stats would say otherwise. The bloodthirsty monster will have to rely on speed if he stands any chance of winning this one, especially against an opponent as powerful as Cam-Lie.
David 'Cam-Lie' Cameron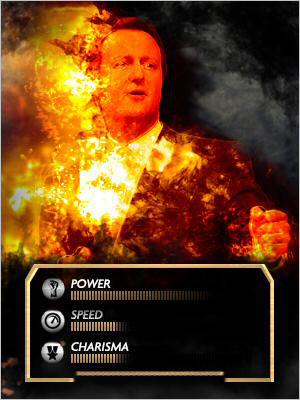 Background - Heavily based on 'Chun-Li' – the first ever female player in the Street Fighter series; Cam-Lie is one of the quickest thinkers on Downing Street. Her sharpness could prove vital on the paintball battlefield. On top of her protective paintball headgear and body armour, Cam typically wears white combat boots, a blue leotard with dark brown sheer pantyhose and skimpy blue panties - perfectly paired with a paintball combat suit.
Signature Move - Her signature move is the 'Lightning Kick' – where she repeatedly kicks her opponent (while they're down) from a tilted standing position with incredible speed. Her favourite paintball game zones are rumoured to be Command Post and London Apocalypse.
Nigel 'UKIP Vega' Farage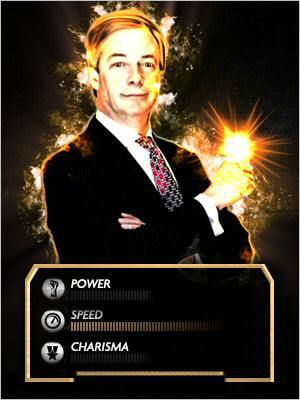 Background -Modelled on 'Vega' – commonly described as a vain, sadistic bloodthirsty monster who is convinced in his own abilities and takes great pleasure in seeing the ugly murdered – Farage enters the paintball battlefield as an unpredictable underdog. The beast typically wears maroon and yellow ceremonial trousers with a purple snake tattooed on his chest. His least favourite game zone is rumoured to be the Border Crossing, while he particularly excels at the Berlin Wall.
Signature Move - His signature move involves smashing a pint glass over his opponent's head while aimlessly wielding a sharp claw, although he may have to make do with launching an optional paint grenade on this occasion.
Round one: Fight!
The first bout will be played in one of Delta Force South East London Paintball Centre's most popular game zones – Castle Wallenberg. Cam-Lie looks right at home as she defends her seat at the top of the castle, while Farage is clearly relying on speed and his optional smoke grenades to force his opponent out.
What's this?! Cam-Lie appears to be taunting Farage from her perch! She's flashing her brown pantyhose in Farage's direction and laughing. The Delta Force Paintball marshals are used to this behaviour with stag and hen dos, but not politicians. Get a grip Cameron!
Round Two: Fight!
The players are level after the first round with a total of 0 direct hits – a pathetic effort. Farage will need to step up his attack in this round if he has any chance of raising the castle's flag and toppling the Conservative regime.
Farage is reaching for his pocket. Is he going to use his secret weapon already? Let's hope it's not a pint of Bombardier, as paintballing at Delta Force Paintball under the influence is strictly prohibited. Here goes... he's going for the smoke grenade. Can he get it inside the castle walls and smoke his adversary out?
He's done it! The grenade is in! This could be his chance.
Final Round: Fight!
Farage still seems to be performing some sort of celebratory dance. He doesn't seem to realise the game isn't over yet. You need to follow the smoke grenade up with some concentrated fire Nigel! Nigel? Nigel! Where is he going? The flag's that way Nigel! Oh dear.
It appears the UKIP leader didn't take into account wind direction when launching his grenade. The smoke is bellowing out of the castle windows and consuming him. What an own goal!
Cam-Lie can smell victory now. She's emerged from the castle walls and is pummelling Farage with paintballs from a safe distance. It's lucky he likes the colour yellow, as he's absolutely covered in the stuff!
CAM-LIE WINS!
Who will Cam-Lie face in the Delta Force Paintball Downing Street Fighter final? Be sure to keep your eyes peeled for our second semi-final battle between Ed 'Red Ryu' Miliband and the enigmatic Boris 'Torie Ken' Johnson!