FEATURE ARTICLE
Delta Force Paintball Surrey: play Tomb Raider, Space Warz and more!
Delta Force Paintball Surrey offers paintball fans a choice of two paintball centres, conveniently placed just off the M25 at Junction 10 in leafy Effingham. Our South West London and Surrey Paintball centres are positioned only metres apart surrounded by stunning woodland. They make a beautiful location for a fun day out of paintball!
The Surrey paintball centre was Delta Force's very first centre that opened over 20 years ago and remains its flagship centre, even today! Having recently received a £40,000 make-over, the centre now benefits from a brand new game zone, Space Warz! Modelled on the ever popular film series of Star Wars, this exciting new paintball game zone has already received extensive interest from the media and customers alike! Other game zones featured at the Surrey venue include Tomb Raider featuring a giant Egyptian stone pyramid surrounded by Easter Island statues, London Apocalypse which is filled with several red double decker buses and London taxis, and The Haunted Graveyard which is home to an old church and lots of creepy-looking tombstones and coffins. Customers can even add a bit more drama to their game by using smoke grenades, paint grenades and MK5 Thunderflashes!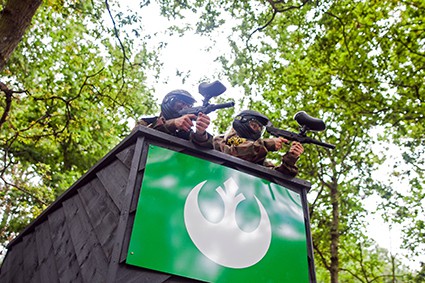 The venue is so easy to spot – featuring a crashed Alvis Stalwart heavy-duty amphibious military truck right at the front entrance! It also has a crashed replica black hawk helicopter sat on the roof at basecamp. We want our customers to have the best paintball experience possible, so these movie-style props help make a big impression!
If you take a short trip down the road, you'll find the South West London Paintball centre! With 7 modern paintball game zones to enjoy all with Hollywood style props, this venue has a lot to offer! Game zones include Viet Cong Village which has an abandoned chapel and lots of wooden village huts, London Bus which involves protecting the US president on his tour of the UK, Command Post which features a huge wooden fortress, covered in camouflage netting, Mad Murphy's Jungle Attack which is set deep inside a tropic rainforest, Chemical Alley a quick-fire game of speedball and A Bridge Too Far featuring several wooden bridges for players to dart over. There's so much variety; there's a game zone for everyone to enjoy!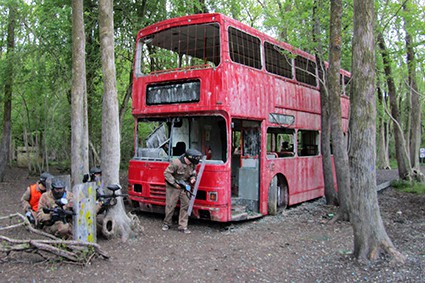 To book your paintball experience at Delta Force Paintball Surrey, or to request further information on either of our Surrey paintball centres, call the customer service team on 0844 477 5115*