FEATURE ARTICLE
Paintball Birmingham: The Midlands' Largest Paintball Centre!
Searching the web for paintball Birmingham Then you've come to the right place! Delta Force Paintball has a fantastic venue located in Solihull – the biggest paintball centre in the Midlands! It has a wide selection of movie-themed game scenarios for customers to enjoy, as well as first-class facilities at basecamp. Consequently, it's proved one of the most popular venues for paintball enthusiasts in the Midlands.
Our Birmingham Paintball centre can be found just off the M42 in 64 acres of lush woodland; a beautiful location for a fun, outdoor, adventure activity! It's also a sport that everyone can enjoy: children (over 8 years old), adults, men and women. So, why not organise a family day out to play paintball together?
The game scenarios at Delta Force Paintball Birmingham include: 'Pablo Escobar's Air Strip' where you and your team are sent on a special drugs enforcement mission with your specialist unit where you need to try and locate and detain an evil drug lord – one of the most wanted men in the US; 'London Bus' where you're required to escort the US president on his UK tour and protect him from any threats that may arise and 'Mad Murphy's Jungle Attack' where an injured allied airman is trapped somewhere deep inside the rainforest – it's up to you to rescue him in time.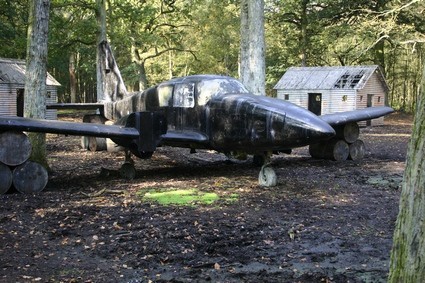 Each of the paintball game zones at our Birmingham centre feature awesome, movie-style props, including several wooden bridges, bunkers, dug-outs and military trucks (featured in 'A Bridge Too Far' ); a large two-storey fortress with sniper tower and covered in camouflage netting (found in 'Afghan Fort'); life-size gravestones and coffins and an abanoned church (located in 'The Haunted Graveyard'); a whole village complete with wooden huts and an old chapel (found in 'Viet Cong Village') and a huge stone pyramid with tunnels and statues (featured in 'Tomb Raider). Players can also use a range of smoke grenades during their game to shock and disorientate the opposition! Pretty cool, huh?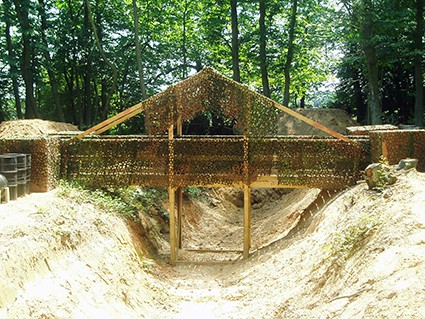 For additional information about any of our game zones at Delta Force Paintball Birmingham, or to book your paintball activity with us, call 0844 477 5115*and speak to one of our friendly advisors.