FEATURE ARTICLE
Call of Duty paintball action in Liverpool
The Beatles sang about getting a little help from their friends, and that is something that you will definitely need at the Delta Force Paintball South Manchester centre - the closest paintball venue to Liverpool. You may think your Inferno MKII semi-automatic paintball gun will be your best friend out on the battlefield, but having the team, or at least your closest buddy, covering your back is a sure-fire way to stay in with a chance of winning. With regular deals and discounts for large paintball group bookings, getting as many mates and willing family members together will save you plenty of dosh, not to mention ramp up the fun factor when you go paintballing in Liverpool!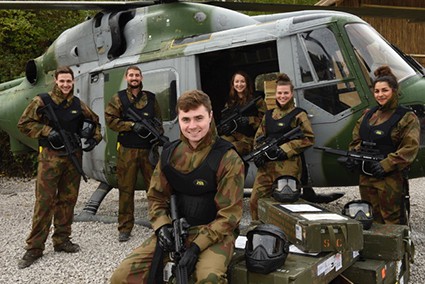 Many visitors to the Delta Force Paintball centre near Liverpool comment on the professionalism of our on-site staff, and the high standard of the base camp and its facilities. Catering for a few hundred paintball-mad enthusiasts is something we regularly have to contend with, so we always look to make sure everything runs smoothly during and in between the paintball games. Whilst players are in the thick of it out on our awesome game zones, those who remain at base camp are well looked after, with free hot drinks available all day and hot water bottles provided during those cold winter months. After hearing what you are missing out on though, we're sure you will want to get involved in the exciting paintball action during your next visit…
The South Manchester paintball centre is just one of 28 Delta Force paintball centres nationwide and the best place to find exhilartating paintball experiences in the Liverpool area. Whether you are organising a birthday, stag or hen party, looking for something exciting for your employees or trying to organise a private game, come and see why we are the world's most trusted paintball provider! Call us today on 0844 477 5115*and speak to a member of our booking team for more information on where to go paintballing in Liverpool.