Assault Rifle
If you fancy yourself as the ultimate warrior and have visions of being crouched low under the cover of thick forest as you line up the red dot sight on your assault rifle squarely in the middle of the enemy's back, this is your ultimate paintball dream come true!
In addition to the M16 replica paintball gun, Delta Force has stocked up on firepower and now offers the ultimate upgrade item for players – the paintball Assault Rifle. This serious piece of equipment is bound to intimidate the opposition and ensures you are a serious contender for victory on the paintball battlefield.
This badass piece of equipment features the following to ensure you remain on top of the competition at all times:
11 Inch Barrel: for superior accuracy on our themed game zones
Silencer: perfect for those sneaky kill shots
Sensitive Trigger: the only limitation is your trigger finger!
Adjustable Stock: enables the perfect fit so you can eliminate the enemy with ease
Red-dot Scope: keep your opposition firmly in your sight at all times!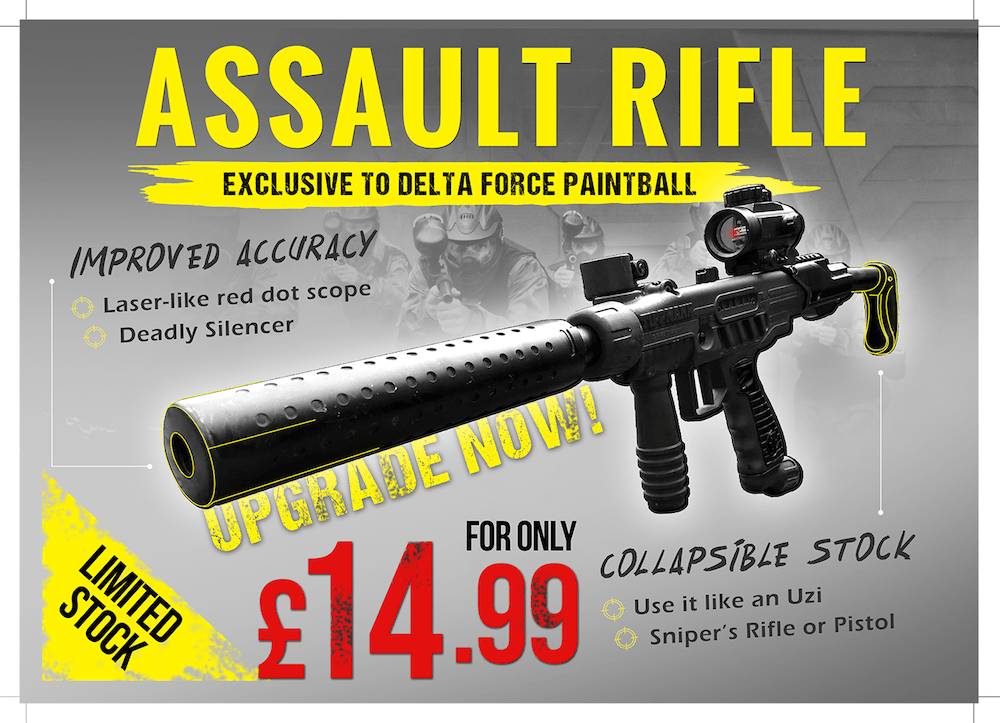 Fancy getting your your hands on one of these bad boys when you next visit Delta Force Paintball? Now you can! There are limited numbers available at our centres across the UK, and they are being snapped up fast. Experience the winning feeling and secure this elite weapon now for your next paintball adventure by calling an event coordinator on 0203 869 9135*. Our friendly team is available 24/7 to help you assemble your crew and book a day of hardcore paintball action!