Mini-Paintball Events at Delta Force
Registration forms are completed by every player on arrival, and parental consent forms must also be completed by players younger than 16 years. Delta Force staff will be on hand to help the children, but parents and/or teachers may find it saves time to download the parental consent forms from this website, and pre-complete them.
Once registration has been completed it's time to get suited up in mini paintball safety equipment and make sure that everything fits perfectly. As a parent you will not be alone, Delta Force personnel will be on hand to help, however we do strongly advise that 1 or 2 parents remain at the centre whilst the children play.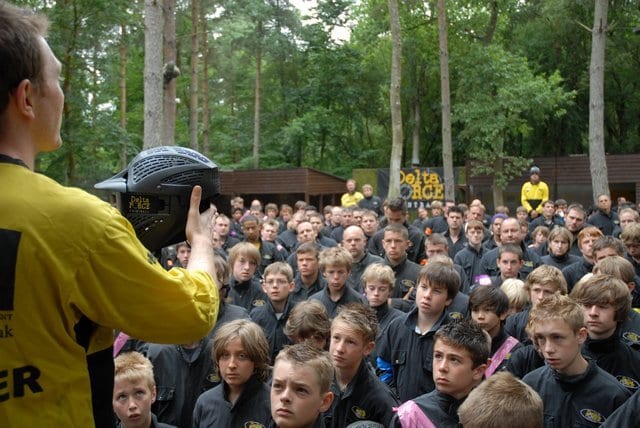 After all players are ready with their equipment the Centre Manager will muster everyone up to the stage for the safety brief. It's essential that all children pay close attention to the safety speech, as this is where the Centre Manager explains the safety regulations, how to use the equipment and outlines the rules of the game. Marshals will patrol the edge of the audience while the Centre Manager is on stage delivering the safety brief. Delta Force takes safety very seriously with our world class safety record, and as such parents often comment that Delta Force takes safety more seriously than any other paintball provider. All mini-paintball participants will receive a separate safety brief to other standard players – through this we can be certain that young participants receive more personal instructions and are 100% clear on all the safety rules.
WHY DELTA FORCE?