Full head protection goggle system
With our full head protection goggles, your face and head are completely protected against the impact of
paintballs. Delta Force has also invested in the latest technology to ensure your goggles do not fog-up whilst
you are in the heat of battle.
The goggles are the most important piece of safety equipment. As such, all of our goggles come complete with foam
padding and a protective click-in strap to ensure the goggles stay on your head when you are out in the game
zones.
All of this combines to make sure you have a comfortable and action-packed day of paintball.
John Terry (Captain of Chelsea FC and England) is an avid paintball player – he brought his own
goggles with him when he played at Delta Force. When he saw what we were providing to his team mates he asked if
he could use ours instead. They are that much better!
Delta Force supplies the latest in custom-designed paintball body armour to all players entirely free of charge,
allowing you to enjoy your day in complete comfort and safety.
The body armour completes the combat suit, ensuring you feel, and look, like a ninja as
you go into battle. Although beware as this does not make you invincible. You will still need to use all of your
skills if you are to defeat the enemy.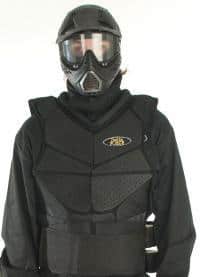 To ensure you have the most action-packed and exciting day of paintball, all Delta Force centres are equipped
with the 0.68 calibre Inferno Machine Gun.
The Inferno is a rapid, well-finished semi-automatic gun that allows you to play with a paintball gun that has
serious accuracy and firepower.
The Inferno Machine gun offers:
Unbelievable accuracy
Reliability during battle
Light-weight, easy to manoeuvre frame
Fast-firing action (up to 7 rounds per second!)
Comfort in design and;
A sleek and stylish finish
To make sure you do not run out of paintballs in the middle of your games, Delta Force will provide you with
a battle pack that holds an additional 400 paintballs. These battle packs are custom-designed for paintball
games so that you can quickly reload your hopper when under enemy fire.
The first piece of equipment you will receive on the day is a SAS-style black combat suit. You will feel, and
look, like a ninja as you put the full-length combat suit on and you get ready for battle.
The combat suit comes complete with a protective padded collar for added comfort and safety, and a fast
release leg system to allow you to easily get in and out of the suit.
The protective padded collar, when coupled with our full head protection goggles, provides complete head and
neck protection to players of all ages. Through this we ensure you can enjoy all of the thrills of
paintball, without fear of potentially painful shots to the neck and head.