Looking for Delta Force Paintball deals?
If you are shopping around for a great
paintball deal
you might be tempted to choose the cheapest paintball provider on offer. It's your choice of course, but opting for a cheap paintball provider can often mean opting for a low quality paintball experience. At
Delta Force Paintball
, you can enjoy a premium paintballing experience at an affordable price. This includes access to movie set quality game zones, brought to life using real props from blockbuster Hollywood movies. You also benefit from state-of-the-art 5-star
†
safety equipment, such as helmets that completely protect the head and combat suits with padded collars to cover your neck. Please feel free to visit our
paintball game zones
and
paintball equipment
pages for more information, or scroll down for details of our paintballing deals.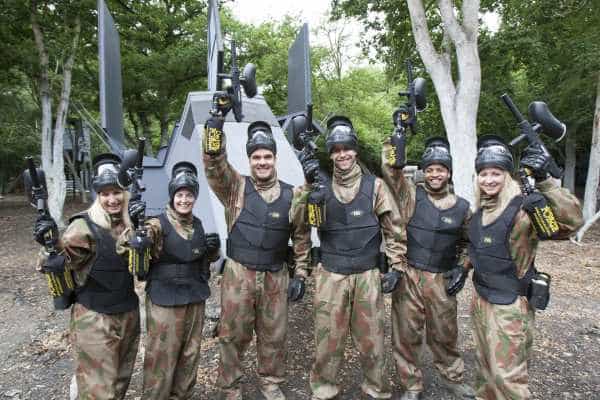 Everyone loves a great paintball deal!
Paintball deals for kids
Often referred to as Juniors or
Young Guns
, this age group takes to paintball like ducks to water. For that reason we have put together a selection of inclusive paintballing packages with prices starting from £14.99 per person for entrance and equipment hire. Visit the
Junior Paintball price page
for details about our other great value inclusive paintball packages.
Bulk paintball discounts
We offer a saving on 1000 paintballs when bought in bulk. This works out at £7.99 per 100, instead of the normal price of £9.99 per 100 in smaller quantities. This is a great value paintball deal, especially when considering that the average player uses between 400-600 paintballs on the day. There is nothing worse than having to severely ration your paintballs, or worse yet, running out of paintballs in the heat of a battle. For more information about this great paintball deal and other equipment prices, please contact our bookings team by
clicking here
.
Upgrade your paintball gun
The standard issue paintball gun is a tried and tested weapon, more than capable of holding its own in the heat of battle. However if you are looking for an added edge over your opponents, the M16 upgrade gun is well worth checking out. This semi-automatic rifle looks and feels the part and offers better accuracy than the standard paintball guns. The best news is that its available from only £10 for the whole day! For more information about the M16 paintball gun please visit the
M16 upgrade paintball gun page
.
Interested in exclusive paintballing deals and discounts?
We like to reward our loyal customers with exclusive paintball deals and promotions. The only way to receive these discounts is by subscribing to our mailing list. Once signed up you will be on the list to receive the next
Delta Force Paintball
newsletter
.
†
As awarded by the UKPBA. The largest paintball governing body in the UK. Visit the
UKPBA website
for details.