Manchester paintballing with Delta Force Paintball
Looking for something to do in Manchester? Why not visit one of our Manchester paintballing centres? Both centres are perfect for players visiting from surrounding areas such as Stockport, Oldham, Bolton, Warrington and Salford. Please select one of the following for more information:
Delta Force Paintball Manchester | Address: The Ave off Grange Road, Eccles, Manchester, M30 8JW
Located just 5 minutes from the Trafford Centre, the award-winning Manchester Paintballing Centre is home to some of the finest paintball game zones in the UK, including Gold Rush a full-scale Wild West Town and the 60ft long Berlin Wall complete with sniper towers.
Delta Force South Manchester paintballing | Address: Back Lane, Pewit Covert, Brereton Green, CW11 1RL
This paintballing centre is well established and has moved from strength to strength and remains a family favourite amongst our repeat visitors. Based in Congleton just off the M6 you can expect an action packed paintball day out for all, with fun and laughter along the way.
Manchester paintballing – why choose Delta Force Paintball?
Join hundreds of players at the Delta Force Manchester paintballing centre, firing paintball rounds and letting off smoke grenades trying to take out the nearest opposition. Do you know someone who fancies themselves as a bit of a Rambo? Bring them along to the Manchester paintballing centre! With over 25 years industry experience we are confident we have the skills to deliver your perfect paintball day, whether you are after a kids birthday party to remember, a corporate experience day to impress your colleagues or an action-packed shoot'em'up for a hen party or paintballing stag do.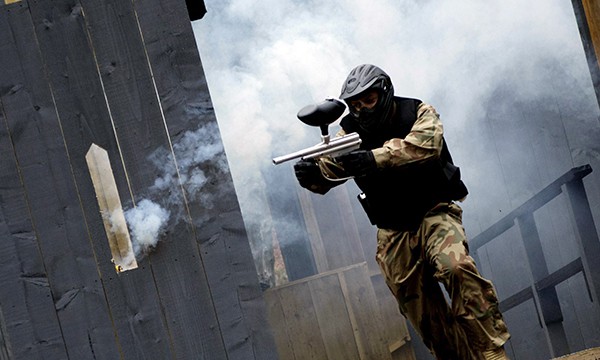 Manchester paintballing for kids birthday parties
Create priceless memories for your kids birthday party with a Manchester paintballing booking. Spectacular photo opportunities inside the perimeter of our South Manchester Paintballing Centre include a WWII Bofors Anti-Aircraft Gun; part of the Delta Force Paintball fleet of army memorabilia vehicles. Take a photo looking fierce, dressed in our state of the art paintballing equipment including: body armour, a full head protective helmet, a defence shield and your semi-automatic paintball gun.
With themed game zones and hundreds of paintballs to fire, from the very first game scenario you won't recognise your mild mannered kids as they pick up their paintballing gun and throw themselves head first into enemy lines!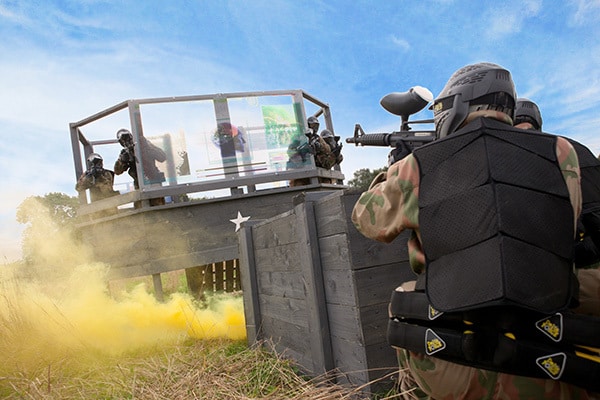 Manchester paintballing game zones
Visited by Premier League football teams including Manchester United and Manchester City; the Manchester paintballing centre is one of the UK's best paintballing venues. Rio Ferdinand said: "…this place is amazing!" Need we say more?
Multiple game zones pack action and adventure into the day, with Command Post a favourite amongst our regular paintball visitors. In this scenario two opposition teams battle to infiltrate the other team's stronghold inserting a 'bomb' into their opponents base. Being a 'battle' game, and sometimes known as "Bunker Buster" it is no easy feat to accomplish. Your attackers can miraculously re-spawn after taking a hit with a paintball and you only get one life if defending! Good luck!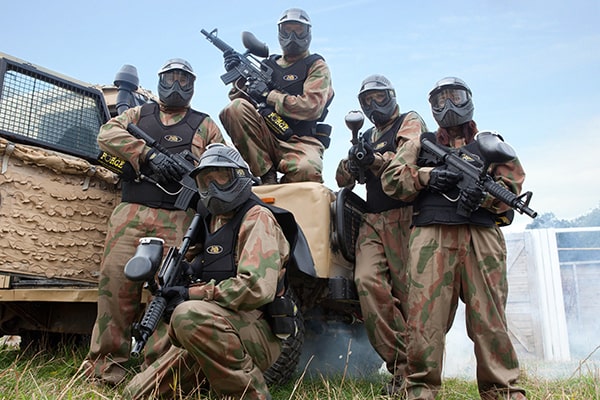 Manchester paintballing helps to create true paintball heroes
At Delta Force Paintball in Manchester, kids, and very often adults who play Call of Duty or Modern Warfare (with parental consent), soon become adept at paintball games like saving the world from disaster, bursting out of smoke grenade mist, and drenching the battlefield with a flurry of paintball fire that astonishes their fellow team-mates.
With our upgrade M16 paintball gun packages available at the Delta Force Manchester paintballing centre, keep your eyes open for those with superior firepower springing out in a surprise paintball ambush. Take lots of pictures of your day out and capture your favourite paintballing battles. Send your pictures to us on the Delta Force Paintballing Facebook fan page.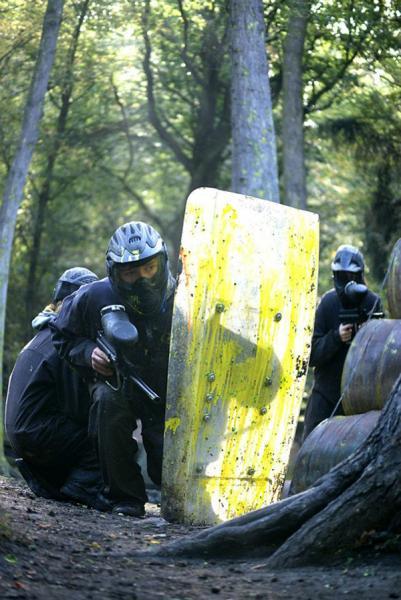 Visit our Manchester paintballing centres and play with the UK's number one paintballing provider, contact Delta Force paintball today on 0844 477 5115*